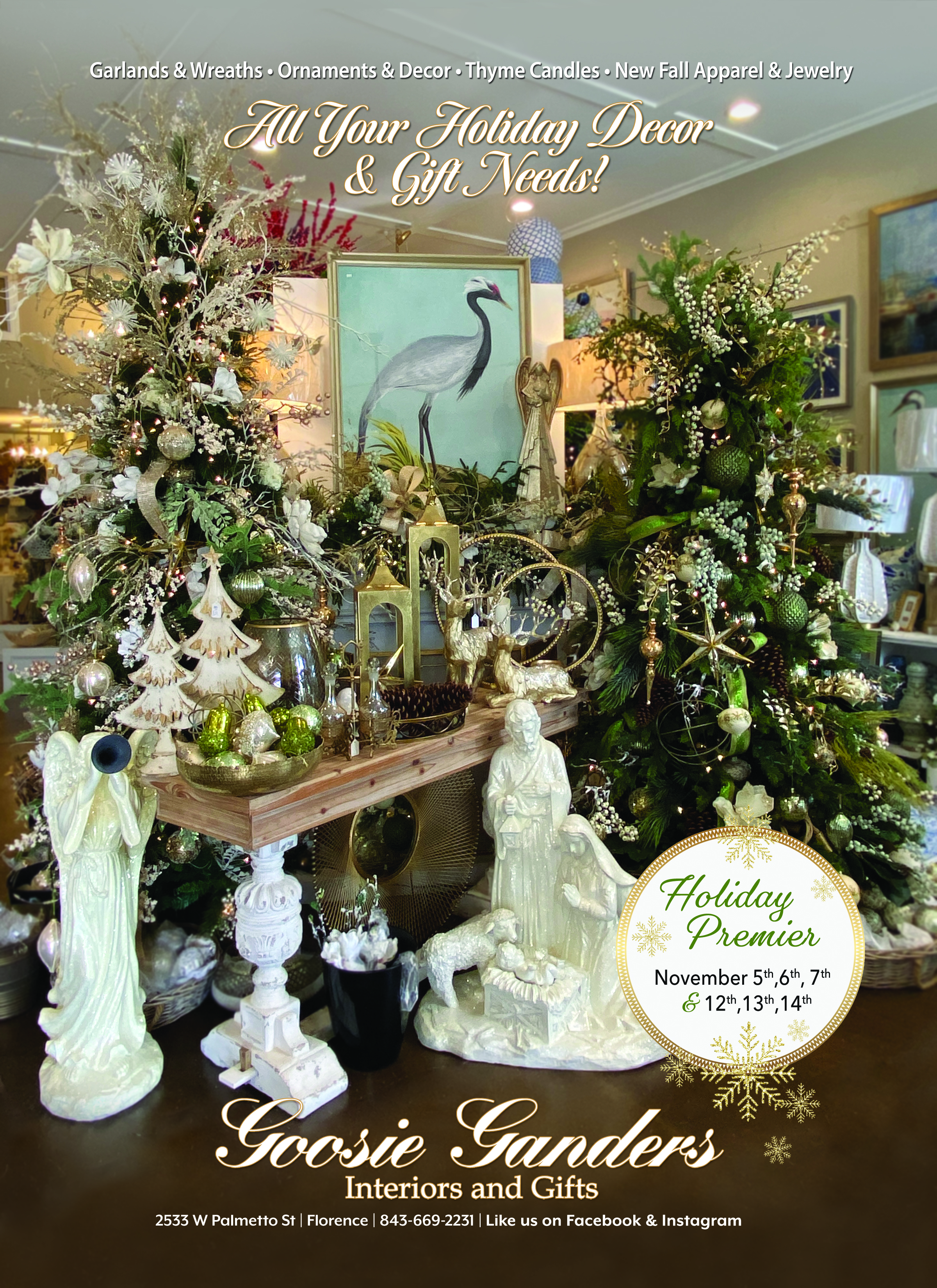 Boutique & Gift Shop in Florence, SC
A member of the Florence, Danwood, and Quinby, SC communities for over 35 years, Goosie Ganders Interiors & Gifts and Butler's Fine Men's Clothing offer a wide selection of products to outfit yourself and your home. Our inventory of clothes, accessories, home décor, holiday items, furniture and more makes us a destination boutique for shoppers throughout the county. Stop in today to browse our full selection!
Women's Clothing Boutique, Suit Store, and Home Decor Store
A high-end purveyor of apparel and more, Goosie Ganders Interiors & Gifts and Butler's Fine Men's Clothing share a convenient retail space in Florence, SC. Customers rely on us to stock the clothes they need for everything from everyday life to once-in-a-lifetime events.
We have decades of experience as a suit store crafting custom suits and shirts for men, while also carrying the collegiate apparel they love to wear day in and day out. As a respected women's clothing boutique, shop for everything from dresses to jewelry. If you need a new ensemble for a special occasion, we've got you covered from head to toe with our inventory of handbags, cosmetics and more. If you're shopping for the special lady in your life, be it a wife, mother or daughter, come check out our selection of chic jewelry made by local artisans.
We don't just want you to look your best—we want your house to look good, too! As one of the area's premier home furnishing stores, we'll create custom floral arrangements and wreaths for your next holiday get-together. Find the unique décor items or furniture pieces that make your house special at our store. Our charming gift shop is also a great place to find the perfect gifts for everyone on your list. From candles to artwork, give your family member or friend something special they'll cherish.
Your local men's and women's clothing boutique for upscale apparel and fine home goods, stop by Goosie Ganders Interiors & Gifts and Butler's Fine Men's Clothing today. We welcome our customers with open arms and an extensive selection of boutique products you'll love to peruse!
We're two distinct retail brands that share the same convenient location in Florence, SC.
We carry a huge range of clothing, accessories, home decor, furniture and more.
We cater to both men and women's fashions, carrying high-end clothing and accessories.
We sell one-of-a-kind, luxury goods and products that make excellent presents.
We've spent more than two decades helping people find clothes and gifts they'll love.
Our boutique and gift shop hosts visitors from:
Florence, SC
Charleston, SC
Darlington, SC
Lake City, SC
Sumter, SC
Hartsville, SC
Camden, SC
Kingstree, SC
Dillon, SC
Myrtle Beach, SC
Conway, SC
Come Discover Your Style
If you love to shop, you'll have the time of your life at Goosie Ganders Interiors & Gifts and Butler's Fine Men's Clothing. Contact us with any questions about our inventory or services.